Pace American Trailer
For those customers who believe that quality is paramount, McFarlane has a special recommendation that will surprise them and satisfy their drive for excellence. Pace American is a trailer brand like no other, expressing hardworking values while at the same time providing the first-class service to customers all over North America and the rest of the world. Trailers designed by this manufacturer are used for a wide variety of purposes and driven in any weather, faithfully serving their owners for many years. Here are some key facts that you need to know about Pace American if you are planning on buying a new trailer soon
A QUARTER CENTURY OF EXPERIENCE
The first thing you should look for in your trailer supplier is experience in the industry, and Pace American checks this box with authority. Originally founded in 1986, Pace went through a rebirth after Matt Arnold purchased the company in 2011. Since that time the company has continuously developed its service capacities, growing into a veritable market leader in its segment. Pace operates 6 modern manufacturing facilities in multiple U.S. regions, including the East Coast, Midwest, and Texas. Decentralized manufacturing empowers Pace American to be very competitive in the local markets while covering the entire nation, a feat that very few competitors can match. Each facility enjoys full logistic and strategic support from the brand's headquarters, allowing it to use the latest technologically advanced processes and equipment.
With Pace American Trailers you should be able to tow your way, no matter the cargo or the destination. That's why our lineup of trailer packages and unique trailer rims provides owners everywhere with the customized ride they need, with options to spare. McFarlane's is proud to offer its owners an ever-growing list of enclosed cargo trailer options to help customize the way they work, play and travel.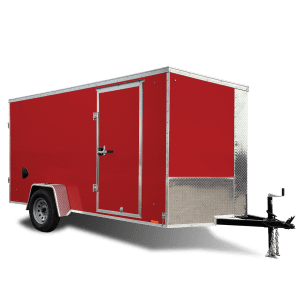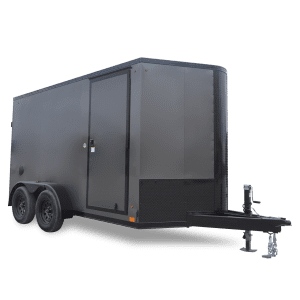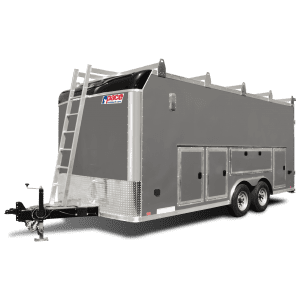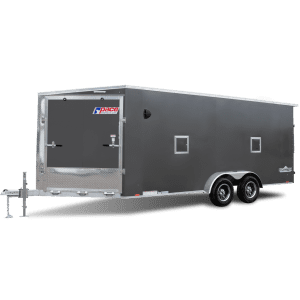 THE BEST TRAILER MODEL FOR ANY OCCASION
By the virtue of having its own research and development department, Pace American is able to put a wide variety of models onto the market. Designs can range from standard cargo trailers and landscaping trailers to specialized units for hauling snowmobiles or motorcycles. Pace American trailers can also easily be converted into mobile offices or concession stands, as the company designs custom trailers for almost any application. This level of flexibility positions Pace American at the very top of the pyramid of trailer manufacturers and allows it to cater to many target groups at once, greatly increasing its commercial appeal and ensuring strong sales figures and customer loyalty.
TOP LINE MANUFACTURING AND BRILLIANT FINISHING
No matter which trailer model you purchase, you can trust that engineers and technicians from Pace American have completed the job to the highest standard. The trailers are produced from the finest materials using premium craftsmanship and the latest technology, resulting in a reliable and long-lasting product prepared to withstand heavy duty use for many years. There are no loose ends on a Pace American trailer – every rivet fits tightly and every detail has been crafted with care and attention. Focus on the technical side doesn't take away from aesthetic appeal, as these trailers look quite impressive on the road and will keep their shine for a very long time!
SHOP FOR PACE AMERICAN TRAILERS WITH MCFARLANE
You might expect top-rate trailers from such an established manufacturer to be pricey, but that's simply not the case. McFarlane can offer Pace American trailers at competitive prices, allowing the customers to avoid choosing between value and quality. All Pace American models of enclosed trailers available from our inventory are among the best in their class, and worthy of your attention. Be sure to check our offering and compare features vs. costs for this trustworthy brand before you make a purchasing decision. At McFarlane's –we take pride in facilitating the best deals on a wide range of high-quality trailer models.
CONTACT US